Here is the list of Food Wars TV show restaurants reviewd on the show including a map, videos, comments, user reviews and photos relevant to the show along with the highlighted meals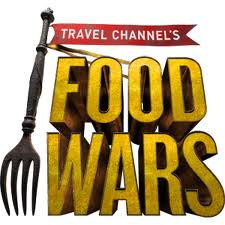 Food Wars
Food Wars is a weekly Travel Channel series hosted by Camille Ford that debuted on Tuesday, March 9, 2010.
The show features restaurant rivalries in cities around the United States, with loyal fans cheering for one of two restaurants that serve one of the city's signature dishes.
A blind taste test with five tasters is conducted at the end of each show to decide which restaurant's version of the dish is better.
Social Media for TV Show Food Wars
-no website available if you know it and want to help out let us know
-no email address available if you know it and want to help out let us know
-no facebook available if you know it and want to help out let us know
-no twitter available if you know it and want to help out let us know

Latest restaurant reviews from the TV show Food Wars