Here is the list of Throwdown! with Bobby Flay TV show restaurants reviewd on the show including a map, videos, comments, user reviews and photos relevant to the show along with the highlighted meals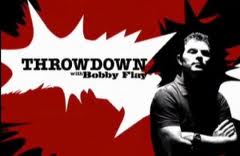 Throwdown! with Bobby Flay
Throwdown! with Bobby Flay is a Food Network television program in which celebrity chef Bobby Flay challenges cooks renowned for a specific dish or type of cooking to a cook-off of their signature dish.
At the beginning of each show, Flay receives – via bicycle messenger – a package detailing the chef he is to compete against as well as the dish. Examples of opponents include a skilled chili maker or a famous wedding cake designer.
After practicing and preparing the item in question, Flay shows up for a surprise competition (or "Throwdown").
During the competition, both chefs prepare their particular version of the dish, and both are then evaluated by local judges to determine a winner.
Social Media for TV Show Throwdown! with Bobby Flay
-no website available if you know it and want to help out let us know
-no email address available if you know it and want to help out let us know
-no facebook available if you know it and want to help out let us know
-no twitter available if you know it and want to help out let us know

Latest restaurant reviews from the TV show Throwdown! with Bobby Flay