Here is the list of United States of Bacon TV show restaurants reviewd on the show including a map, videos, comments, user reviews and photos relevant to the show along with the highlighted meals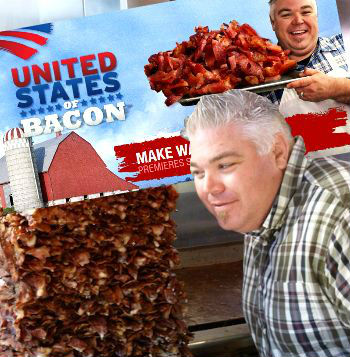 United States of Bacon
The premise of the show seems a lot like Man vs. Food, just with more bacon. Fisher will search from the mountains, to the prairies for the greatest bacon dish in America.
The first season is set for 12 episodes and it has been revealed that the first episode will consist of chunky peanut buttery bacon cheeseburgers, bacon-wrapped meatloaf, bacon apple pie and a restaurant with bacon happy hour.
Just when you thought the bacon trend was starting to slowly fade away, BAM! A show that will beat you in the face with bacon!
Social Media for TV Show United States of Bacon
-no website available if you know it and want to help out let us know
-no email address available if you know it and want to help out let us know
-no facebook available if you know it and want to help out let us know
-no twitter available if you know it and want to help out let us know

Latest restaurant reviews from the TV show United States of Bacon