Here is the list of Food Paradise TV show restaurants reviewd on the show including a map, videos, comments, user reviews and photos relevant to the show along with the highlighted meals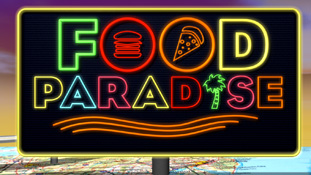 Food Paradise
**Food Paradise** is a television series that features the best places to find various cuisines at food locations across America.
Each episode focuses on a certain type of restaurant, such as "Diners", "Bars", or "Breakfast" places that people go to find a certain food specialty.
New episodes currently air on Wednesdays at 9 p.m. on the Travel Channel.
Social Media for TV Show Food Paradise
-website http://www.travelchannel.com/topics/food-paradise/index.html
-no email address available if you know it and want to help out let us know
-no facebook available if you know it and want to help out let us know
-no twitter available if you know it and want to help out let us know

Latest restaurant reviews from the TV show Food Paradise